What's New!
Introducting the NEW MTL Collection!
Our new an improved MTL collection is a collaboration with one of our favorite weightlifters, Mary Theisen-Lappen. This collection is a represntation of Mary as both an athlete and a person. The collection will include singlets, shirts, socks, stickers, scrunchies and so much more! A percentage of each purchase from this collection will go straight to supporting her and her journey to making the 2024 Olympic Team!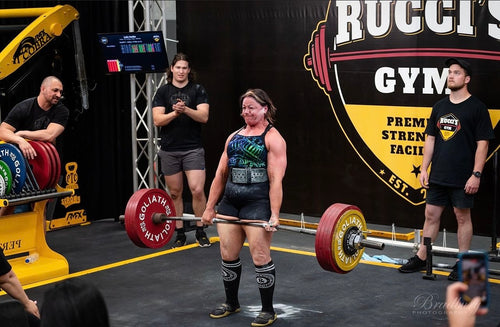 New SLS Rental Program!
Here at SnortLife we believe that everyone should have accessibility to our singlets. We want everyone to feel confident on and off the platform. If you want to look good while competing, but do not want to commit to our prices, then the rental program may be the option for you! 
Hear what our customers
have to say!
"As a woman in the +87 weight class, finding a singlet that would fit me that was readily available was impossible. Sure, I could have purchased a men's singlet, but I shouldn't have to. My Snortlife singlet is so important to me because it gives me confidence on the platform while letting my personality shine through. It fits me perfectly in every way possible! It is high-quality, and will last me for a long time, if not forever. It is so comfortable on my skin, and since it was custom, it hugs every curve in the best way. Cortney is the kindest and most patient person to work with, and really strives to bring every dream to life (and she kills it, if I do say so myself). Cortney and Snortlife Singlets is the only place I will ever purchase a singlet from!"
"Absolutely love my singlets. They look amazing and I am constantly receiving compliments at competitions when I wear them. The communication is fantastic I live in New Zealand and responses were fast I would send an email the night before and get a response the next day. Delivery wasn't too bad either it was sometimes I have to wait months for items to arrive from the States, I didn't have to wait this long!"
"Look good, feel good lift good!!  As an 87+ athlete, it's easy to let the body dysmorphia kick in and start feeling really self conscious while lifting in a skin tight suit in from of an audience.  But SLS has given me the opportunity to create something tailored to my body that is absolutely beautiful and fits perfectly.  I cannot wait to order my 7th custom singlet and rock that platform … somebody has to be the cutest."
"Thank the stars for SL Designs!I LOVE the sport of olympic weightlifting: the challenge, the discipline, the training....what I DON'T LOVE is making weight, wearing a singlet, and "competing" at meets.  Having Cortney make a custom singlet means I get to WEAR and FEEL the confidence and happiness I need to do the things that I'm not comfortable doing. The fact that it's absolutely 100% custom is quite extraordinary and the process is so much fun. It's amazing just how many people will come up to me at a meet and ask me so many questions about my awesome singlet(s). Just do it. I'll be ordering singlet #6 next.  Do you wear the same dress for every special occasion on your calendar for the year? Just saying......."
"There is nothing like a handmade singlet designed by yourself to make you feel awesome on the platform! Cort can take a general idea and bring it to life or take the most intricate singlet design and make it happen. Why wear a stock singlet when you can wear something that matches your personality?"